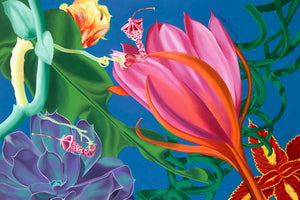 Jennifer Brewer Stone | Original Oil Painting on Canvas | 20x30"*

The succulents and flowers shown here are largely based on those found in the Sonoran Desert. I was struck by how alive the Sonoran Desert was, especially during the rainy season when everything was blooming. I was struck most by the exotic, sculptural quality of some of the plants and flowers found there, like the purple echeveria succulent (lower left).

*It is available for viewing or pickup from my local studio & gallery in Arlington, VA.