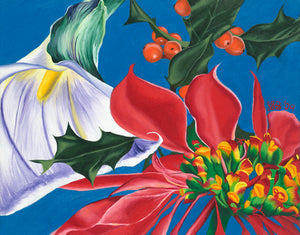 Jennifer Brewer Stone | Original Oil Painting on Canvas | 11x14"*
In choosing the title 'Ode to Winter', I wanted to communicate the awe I feel in nature. I also wanted to make a reference to music and musical odes, one of my other artistic loves. This painting was also photographed and used as a holiday card for many of my friends.
I wanted to do a winter seasonal piece that would remind one of the holidays, and use flowers commonly given as gifts used at that time. The flowers and plants include holly, poinsettia, and cala lily.
*It is available for viewing or pickup from my local studio & gallery in Arlington, VA.